$302/man-day, and we're very transparent about where the money goes. We have a Bill on Maximum Time Guarantee.
**INSERT VIDEO** - Pricing
Inspectors don't make $3-5/hr, more like $13-19/hr ($100-150/day)
A common misconception is that inspectors make $3-5/hr in countries like China. Factory workers who speak Chinese and do the same thing repetitively all-day might. However, well-trained, bilingual inspectors make around $13-19/hr after taking into account all costs and benefits.
Flat Man-Day Rate
We charge by the day @ $302/man-day, with a one-day minimum. The rate includes the following:
Approximately 8 hours of a well-trained, bilingual inspector's time
Travel time
Travel Costs (including train, plane, accommodations, etc.)
Auditing & Training Costs
Administrative Costs (including our English speaking back-office & translation staff)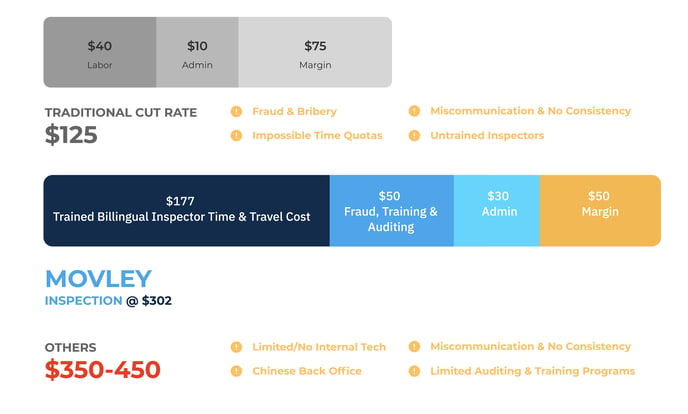 Fully Modular Based on Inspection Time
The more detailed you get with your inspection and the more units you check, the longer the inspection will take and therefore cost. We pre-quote all inspections, and you can adjust the sample size and configurations to fit your budget (as little as one day) and risk tolerance.
Movley vs. Flat-Priced Services: Movley pays our inspectors a market wage. Companies that charge a flat fee per unit cannot accommodate for the differences between every product & every facility which can vary greatly even on the repeat inspections, and inspectors are given unreasonable time quotas. Movley inspectors are given reasonable time quotas, and tons of additional internal resources to ensure the inspection is done properly.
Bill on Maximum Time Guarantee
We hate hidden fees and surprise charges. If we quote you 1 day for an inspection and the inspection ends up taking 2 days, we'll cover the cost of the extra day as long as it's not something out of our control.
However, say it's something out of our control (like the factory is not cooperating), we'll inform you and discuss the next steps with you accordingly. We do not bill until you've confirmed any additional charges.
Credits for Unused Days
If your inspection takes less time than quoted, you will automatically receive a credit for any full unused man-days as long as the inspector did not visit the factory. For example, if you were quoted 2 days and the inspector finished on the first day, you'd receive a full credit for the extra day to use on a future inspection.